The Project Engineer's Guide To Facility Systems Design & Installation | Section 5
Assembling a Complete System & Installation Plan
Now that a vendor has been selected and the scope (ISBL) of that vendor's supply is known, the balance of the system can be assembled.
The P&ID: Understanding Ancillary Components & Devices
The first step in designing the system is to understand what ancillary components or devices are required. Purchasing one piece of equipment is likely just the first step in building out a complete operating system – there's a lot more to it.
The best tool to guide this process is Process and Instrumentation Diagram (P&ID), sometimes referred to as a Piping and Instrumentation Diagram.
The P&ID is where the connection of the main piece of equipment to the facility begins. This is where the need for pumps, instruments, utilities, piping, etc. become obvious, and where these decisions are documented.
Please refer to the following sample P&ID for the upcoming discussion: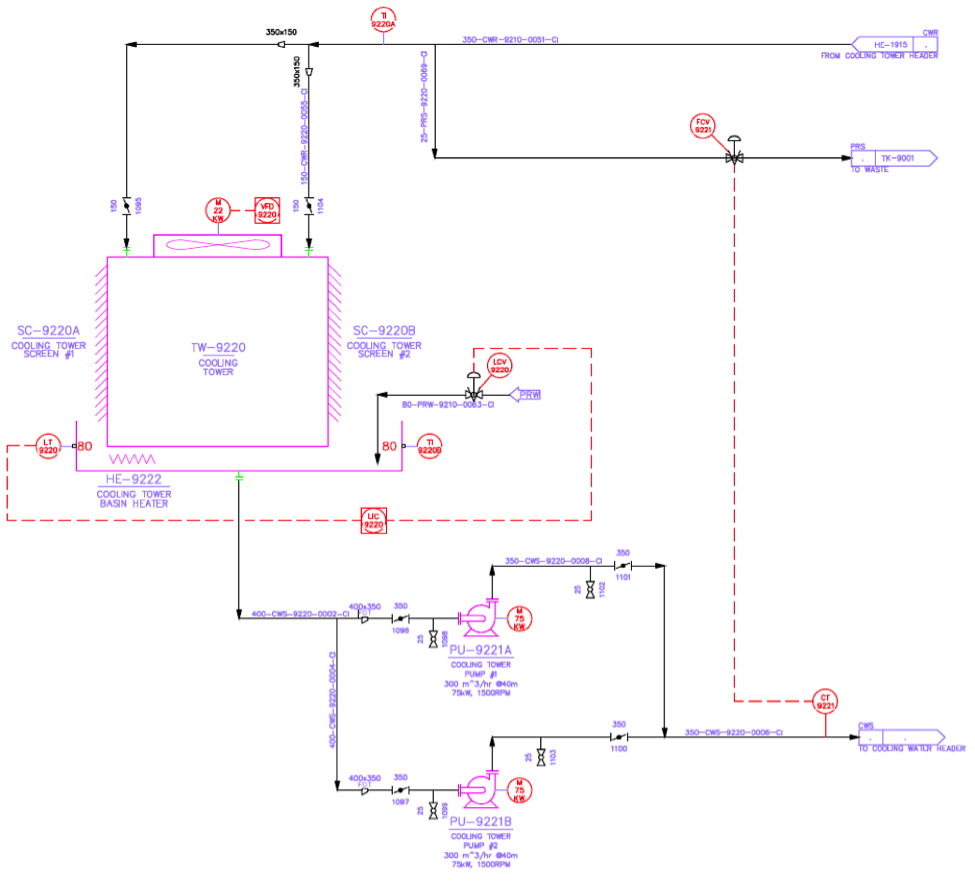 Let's assume that the procurement process detailed above resulted in the purchase of the cooling tower TW-9220 in the sample P&ID. The typical scope of supply (ISBL) for such a tower would include only the tower TW-9220, the basin heater HE-9222, and the motor that is shown as 22 KW.
The items not included are:
All Piping
Pumps PU-9221A&B
Level Control Loop LT, LIC, and LCV9220
Temperature Indicators TI-9220A&B
Blow Down Control Loop CT-9221 & FCV-9221
Variable Speed Drive VFD-9220
Cooling Tower Screens SC-9220A&B
All Manual Valves (10 in the case of this sample)
Motor Starts for Pumps PU-9221A&B
For each of the items not in the tower supplier's scope, many decisions must be made, and likely, a procurement process similar to the process outlined previously must be followed. To support that process, each component must be engineered and specified prior to approaching vendors for these items.
In addition to the components that must be purchased, many other decisions must be made and a certain level of engineering tasks performed, such as:
Mechanical Layout Preparation: general arrangement, maintenance access
Foundation/Support Steel Engineering & Drawing Preparation
Electrical System Evaluation: confirm the current electrical system has the necessary capacity
Electrical System Specification & Design: motor starters, cabling, arc-flash study, etc.
Pipe Line Sizing: flow rates, pressure drop, etc.
Pipe Routing: support design, tie-in location, low point drains, high point vents, etc.
Process Water Supply Evaluation: available water capacity, water quality, etc.
Blow Down System Capacity: process waste, sanitary sewer, etc.
Control System Evaluation: is there enough I/O space for the added devices
Control System, SCADA Configuration
The main point of this exercise is to further illustrate the fact that purchasing a piece of equipment, in this case a cooling tower, is just the beginning of developing an operating cooling tower system.
What Constitutes a Complete System?
In the previous cooling tower example, many of the decisions, engineering functions, and procurement functions were addressed. There are many more considerations that must be evaluated before a safe, reliable, and efficient system can be expected.
It's crucial to take the time to ensure these precautionary measures are met, in order for your system to be as successful as possible—as well as ensuring your environment remains safe.
We've put together the following checklist of topics, considerations, and tools that can help assure a successful system installation:
Are there any safety concerns?
Chemicals

OSHA PSM regulated chemicals
Eye Wash/Shower stations
Double block & bleeds
Personal Protective gear/hardware
Exposure prevention/PEL sniffers/alarms

Elevated Temperatures
Flammability/Combustibility Concerns
Noise Levels
Mechanical Concerns

Belt chain guards
Pinch Point identification
Safety Interlocks
Lock-Out – Tag-Out
Confined Space Entry
Fall Protection
HAZOP
How are required ancillary components identified?
P&ID
Mass/Energy Balance
Motor List
Instrument List
Piping Line List
Maintenance Requirements (hoist, manways, etc.)
What utilities are required for all the components of the system to function properly?
Electricity for Motors (110v, 480v,4160v, etc.)
Electricity of Other (electric heaters, heat trace, control panels, etc.)
Cooling Water
Process Water
Plant Air
Instrument Air
Natural Gas
Steam (other heat sources)
Chemicals
Control System I/O space (DI, DO, AI, AO, other protocols)
How will physical support and access for the major and minor equipment be determined?
Mechanical Layout (general arrangement)
Foundation/Steel Drawings
Deflection Concerns
Wind Loads
Seismic Loads
Vibration Concerns
Personnel access
Live Loads/Dead Loads
What is required to make the system operate as expected?
Process Operation Narrative
Process Control Narrative
SCADA Programming
Interlocks & Setpoints